We added a feature to Neetrix today that will either make you shout with JOY or say 'you what'? Shall I explain?
If you use Neetrix to run one business then you are unlikely to notice any differences; don't get me wrong using Neetrix for your business is great and we are really glad that we can help you. If there is anything (whatever it is, and however small it is) that we can do to make Neetrix work better for you please let us know! However if you use Neetrix to power multiple businesses, or perhaps you consult for more than one business; you have likely come across one limitation. You couldn't access more than one company at a time on the Neetrix platform until now!
For example if you opened up your Printing Company's accounting screen and then opened another browser tab for the stock screen of your Wedding Stationery Company things would go a little wonky. The problem is that the Neetrix system couldn't be sure which company you wanted to look at; was it the one you had open first, or the one you looked at last?
So at the request of our users we have added the ability for every company to have their very own "administration address". This is like a subsection of Neetrix for each of your companies; this not only means that you can have multiple companies open at once in your browser tabs, you can also bookmark areas of Neetrix for specific companies! Here is an example:
Alice and Bob run two companies; their Pie Shop in the center of town (Alice and Bob's Cottage Pie Shop), and their wholesale business (Pies R Us). Alice is the brains of the outfit she is great with the pies, and great with the computer; Bob on the other hand.... well lets not go there. They use Neetrix to run the businesses, unfortunately Bob get's a bit confused between the two companies and often sends invoices for big pie deliveries from the wrong businesses. But now thanks to the Neetrix administration addresses it's really easy for them to see which company they are using: cottagepie.admin.neetrix.com and piesrus.admin.neetrix.com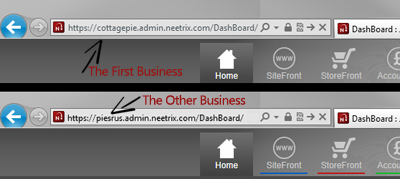 Alice can email Bob a link to the latest stock sheet for Pies R Us and there is no chance that he will end up looking at the Cottage Pie sheets! To make things even easier they can now bookmark their most used sections of Neetrix for each company. So rather than having to login to Neetrix and navigate to the section they need after selecting the company; they can just click a bookmark, login and they are there!
Back to the upgrade, along with the "administration addresses" this upgrade has allowed us to include some more subtle feature, for example: Your previous searches are now company specific rather than being across your entire Neetrix account.
To sum it up, this upgrade to Neetrix is for people that have more than one business or consult for more than one business. If that isn't you don't be sad, we will have even more features for you coming soon. As always if there is a feature you would like to see in Neetrix please contact us and let us know!